Learn cave diving with us
Cave diver training for all levels
Detailed below, are each of the primary cave diver training levels. Starting with Cavern Diver through to Full Cave Diver and then the Cave Specialities.
You can begin the training journey with a Cavern Diver course, starting from open water diver with 25+ dives. However, if you wish to proceed beyond this level some additional technical training will be required before you enter the cave. If you don't have this, we can help you out there – see our other technical course prices here.
We are able to deliver a the full range of overhead training courses. These can be taken using either open or closed circuit equipment. And in either backmount or sidemount configuration.
Cavern Diver is the entry level course of the primary course structure. Thereafter each of primary courses becomes the prerequisite to the former, meaning the courses must be taken in a sequential order or as an approved course combination.
Our recommended course bundles are a combination of Cavern Diver & Intro to Cave Diver, then when you have gained experience at this level you can progress to the Full Cave Diver & Stage Cave Diver combination. See each course separately for full details.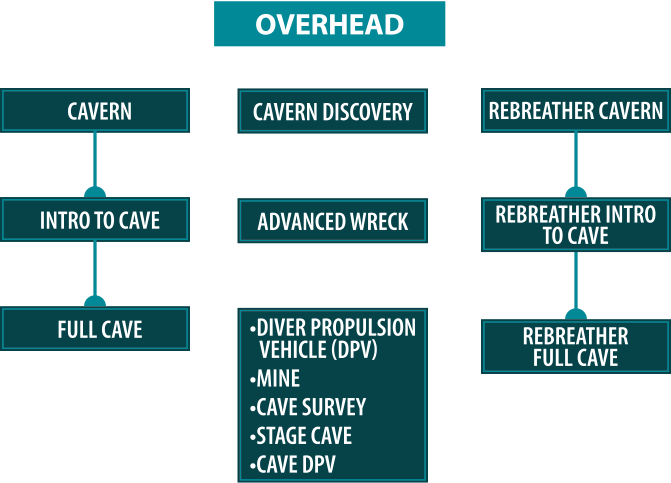 Start the journey
Cavern Diver
The Cavern Diver course is where your overhead journey begins.
Your will get your first taste of diving in an overhead environment, and learn some of the basic skills that are required to proceed onto your introductory cave diver training.
This course can be combined with the Intro to Cave level if required.
Leave the daylight behind
Intro to Cave Diver
The Intro to Cave Diver course is where you get to leave the daylight behind and really enter the cave.
During the course, you will learn the basic principles and skills required to cave dive safely. Always diving with redundant air sources.
The skills you learn here are the foundation you need to go and build your experience, before progressing on to the Full Cave Diver course.
Extend your limits
Full Cave Diver
The Full Cave Diver course is where you get to explore past the mainline.
During the course you will learn advanced navigation and gas planning techniques
On completion of your training you are then considered a cave diver!
Push further
Cave Diver Specialities
With the range of Cave Diver Specialties, you can take your experience to the next level.
Push further with the multi-stage and advanced gas planning, or maybe you want to exploit the benefits of diving with diver propulsion vehicles (DPV).
Whatever it is, by now are at the pinnacle of cave diver training and will have the experience required to operate at this level.