Matt Brooker
Member
28/05/2020 at 07:54
Post count: 1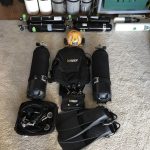 I use an xDeep stealth 2.0 with some simple modifications that IMHO are simple yet effective. This picture is actually a little old but it gives you the general idea.
Butt Plate – For me, the standard diamond shape xDeep butt plate works great, mainly used when diving on the 12L steels.
Butt Pouch – I moved away from the Deep pouch. Why? Because simply put it was too small even when the extension zipper was left open (which looks messy). I have since moved over to a Freedom Dive Systems butt pouch and I love it. I won't be going back EVER.
Sliding D Rings – I changed these from the standard rubbers to the Deep stainless steels. They are a little pricey but worth the investment.
Cylinder Bungees – I deploy two U shape from each side, fixed on the shoulder plate and looped through aSumpUK slider on each side of the harness. Small adjustment but really comfortable and practical.
Wing Retraction Bungee – Previously I adapted this with a Sump UK bungee arrow, but found it actually a little unreliable and fiddly at times. I have since adapted this to a single bungee loop from the right-hand side. On the left is a double-ender permanently secured on the left-wing loop. This is then threaded in a way that the bungee itself pulls on the double-ender making it really secure throughout the dive. Whilst reducing the number of unnecessary clips and tackle items on the wing.
Weight/Trim Pouches – I have two generic brand small weight pouches on the shoulder harness situated close to the spine behind the kidney area. They are great for adding weight when required in saltwater or for trimming weights.
Reg/cylinder Configuration – I debated this with myself often, previously preferring the regs up (thus protected), but now switching to regs down (more exposed). There is no right or wrong here, my preference has really been decided by the deployment of cylinders and gases between side-mount, deep tec and rebreather diving. It simply just made more sense that I could adapt my configurations more easily when my regs we're left in the downward position. Resulting in then being able to side-mount my rebreather cylinders with my deep bailout on the left (diluent side) and the richest gas on the right (my O2 side).
My cylinder configuration changes with regulators. But it general terms I like to dive with a pair of steel 12L when its just a simple side-mount dive. If diving additional cylinders I tend to move to use exclusively Ali 80's except for O2 which I always have in a 7l Ali if required.
Helmet – I have purposely left this item to last as they open up a whole debate of their own. Yes, I have a helmet. I use it when scootering, solo diving or diving in restricted access overhead environments. For standard dives, I don't wear it. It has two light monkey backups and the chin strap has been removed and replaced with a piece of thick bungee, which IMHO is way more comfortable and practical.